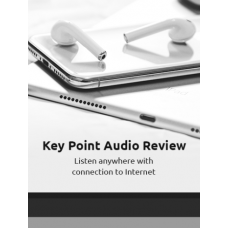 Our famous Audio CD's have now been converted to MP3 Files which can be played on any computer, laptop, iPhone, Smartphone, Tablet, and any electronic device MP3 files are played.
To listen to the audio files you must be connected to the internet through WI-FI or using Data on a mobile device.
Updated every two years, these MP3 files provide over two hours of enhanced "hands-free" review of the key points of the sales associate course. The product contains the major updates to conform with the revised Florida Real Estate Commission (FREC) Sales Associate Course I Syllabus.
This product will help students reinforce important concepts. NO SHIPPING FEES APPLY.
NOTE: This item is NON-REFUNDABLE
Enrollment Information
OPTIONAL ADD-ON (Click to Add):
---