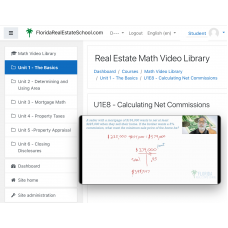 Comprehensive Real Estate Math Video Tutorial
In this course, we will equip you with the essential mathematical skills and knowledge you need to excel in the world of real estate. Whether you're a beginner or looking to refresh your math skills, this course is designed to provide you with a solid foundation for success in real estate.
Our expert instructors will guide you through a series of engaging video lessons that cover fundamental math concepts and their practical applications in the real estate industry. By the end of this course, you will have the confidence and proficiency to tackle various real estate math problems, including calculating property values, mortgage payments, commissions, and more.
Get ready to unlock the power of mathematics in real estate, and embark on your journey to becoming a skilled and confident real estate professional. Let's dive in and make real estate math not just understandable but enjoyable!
---